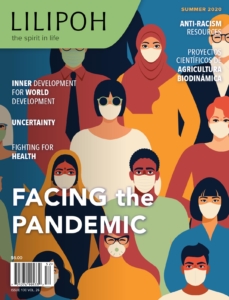 Compiled by Christy Korrow
21-Day Racial Equity Habit-Building Challenge from Food Solutions New England
"While the scheduled twenty-one days of this year's Racial Equity Challenge wrapped up in April, we invite you to make use of this materials throughout the year. FSNE invests a significant amount of time and energy updating and improving the Challenge every year and it's our hope that its usefulness can be spread far and wide.
Think about whether you are doing this exercise on your own or if you want to organize a group of participants at your school, business, organization, etc. Make sure everyone planning to participates allocates at least 15-20 minutes per day of material that you're covering (more if you want to dive into the optional extra material offered each day). If you're working in a group, have an initial conversation about what people would like to get out of the Challenge and if/how you'll meet to discuss what you're learning and apply it to your activities. Visit our Tools for Groups page for help with some of this.
Decide whether you'll be doing this over twenty-one consecutive days, spread out over twenty-one weeks or on some other schedule. It's up to you."
Teaching Tolerance
"Our mission is to help teachers and schools educate children and youth to be active participants in a diverse democracy.
Teaching Tolerance provides free resources to educators—teachers, administrators, counselors and other practitioners—who work with children from kindergarten through high school. Educators use our materials to supplement the curriculum, to inform their practices, and to create civil and inclusive school communities where children are respected, valued and welcome participants.
Our program emphasizes social justice and anti-bias. The anti-bias approach encourages children and young people to challenge prejudice and learn how to be agents of change in their own lives. Our Social Justice Standards show how anti-bias education works through the four domains of identity, diversity, justice and action."
The Teaching Tolerance website is a generous resource of toolkits and lesson plans!
The People's Institute for Survival and Beyond (PISAB)
"PISAB is a national and international collective of anti-racist, multicultural community organizers and educators dedicated to building an effective movement for social transformation.
The People's Institute believes that racism is the primary barrier preventing communities from building effective coalitions and overcoming institutionalized oppression and inequities.  Through Undoing Racism®/Community Organizing Workshops, technical assistance and consultations, The People's Institute helps individuals, communities, organizations and institutions move beyond addressing the symptoms of racism to undoing the causes of racism so as to create a more just and equitable society.
Founded in 1980 by long-time community organizers Ronald Chisom of New Orleans, and Dr. Jim Dunn of Yellow Springs, Ohio, The People's Institute has impacted the lives of nearly 1,00,000,000 people both nationally and internationally."
"Founded in 2007, CFS creates new generations of critical thinkers who use their unique experiences and power to create a just world. Inspired by the Mississippi Freedom Schools of the Civil Rights Era, CFS takes an innovative approach to youth activism, leadership development, and movement building.
Through youth programs and trainings, we equip young people and adult allies with the tools develop actionable strategies for social change."