Latest Issue: Summer 2016
Society
&

Community Issue #84, Vol. 21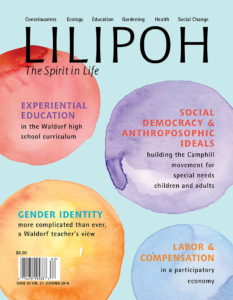 The Power of Perception; Actively Engage in the World and Be Transformed!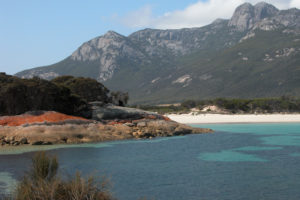 By David Tresemer, PhD
What happens when you perceive something, let's say a view of a mountain next to the sea? Let's begin with a mechanical point of view. The rods and cones in your eyes take in impressions of shapes, colors, and textures, then they bundle them together in a coherent set of patterns that you store in the neurons of your hippocampus (and later transfer to other places in your neuro-computer). Later you can evoke the mountain-sea mental picture. Thus the human being senses a scene, then takes something (an impression) away. As photographers sometimes say, "I've captured the scene!" Captured, and taken away. The human being is possibly changed from the experience. The actual scene—the mountain and the sea—stays the same.
The Fellowship Community; Celebrating Fifty Years of Service, 1966 – 2016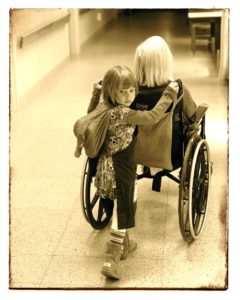 By Ann Scharff and Friends
Last year we entered into our forty-ninth year—our seventh seven-year period of the Fellowship Community, a dynamic, work-based, intergenerational community founded on the ideas of Rudolf Steiner's anthroposophy. Our mission is "to care for the elderly and to nurture the body, soul, and spirit within the human being during all phases of life; to create a social process worthy of our common humanity; and to be responsible for the care of the earth upon which we live."
From the LILIBLOG: Quality of Life - An Exploration of Biography and Social Art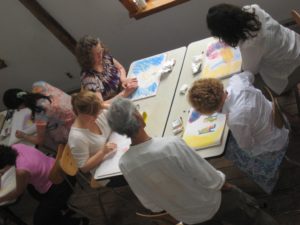 By Susan Crozier
In 1996, I was 42-years-old and our family relocated to a new state. I was experiencing a difficult time of loneliness, anxiety and a loss of camaraderie. The outer landscape was beautiful but my interior one was a dark wood.  "What direction will lead me out of this wood?" That year, Sunbridge College in Spring Valley, NY, was starting a new program called Biography and Adult Learning (now called Biography and Social Art).nMy motivation for attending was to seek respite, be with like minded people, and experience new ways of learning. Biographical work was the vehicle.
Subscribe to LILIPOH and get great content like this every quarter!  Both inspirational and practical, LILIPOH is a lifestyles magazine for the growing populace known as 'culture-creatives,' folks interested in holistic health, well-being, creativity, spirituality, gardening, education, art, and social health. Articles, art, poetry, reviews of books, and news make LILIPOH a well-rounded, solution-oriented publication for creative, green-minded, thinking individuals who have an interest in spiritual inquiry and a desire to make a difference in the world.
What are people saying about LILIPOH?
"Another great resource!  Less than the cost of one local large pizza and you get to enjoy it for a whole year."
"I also want to say that I think LILIPOH is truly a great magazine - definitely the best-designed and most readable anthro. periodical out there.  Keep it up!"
"I must compliment you on the best ever issue of LILIPOH!  The honeybee articles were excellent, each from an important point of view and all with warmth and concern."
"I feel that it (LILIPOH) leads the way in gathering the proper soul mood and true endeavors of how concerned and caring humans should lead their lives."
"Thank-you, SUPERB MAGAZINE."
LILIPOH Publishing, Inc Po Box 628 Phoenixville, PA 19460
Phone 610-917-0792 Fax 610-917-9101 info@lilipoh.com