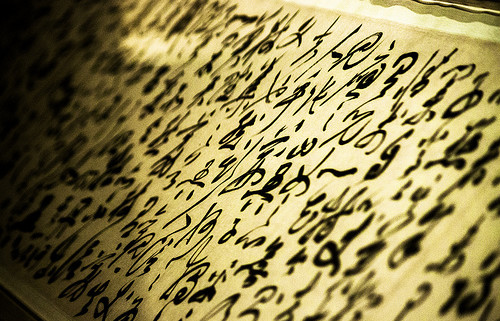 Chinese Calligraphy — A Poem
We share this poem by Li Li, a Shanghai-born poet who now resides in Sweden. The poem was submitted to LILIPOH in conjunction with our Spring 2015 issue which featured homeschooling and Waldorf education on Mainland China. —CK
中国书法
李笠
晨和夜
围着毛笔旋转,变成黑字
母亲的教诲:"一切都在这里,苦练
才能不朽!
雨抽打一扇扇关闭的窗子
和窗背后的脸谱
我带着同样的墨上路
我写着同样的字
天和空,为什么是意思相同?
云笑而不答
投下鹅毛大雪。
墓园展销一块块巨墨
一切都写在这里:名字,出身年月
我,一支轮回千年的笔,在写
大地展现死者写过的字
天空俯身观览
并很快又铺上一张浩大的宣纸。继续苦练!
Chinese Calligraphy
Morning and evening
swirl around an inkbrush become black characters
with mother's instruction: "All is contained in this. Diligent practice
Is the route to enduring art!"
rain lashes all the closed windows
and facial make-up behind them
I go journeying with the same kind of ink
I write the same character
heaven and sky, why the same meaning?
clouds laugh without giving answer
sift down flakes as large as goose down
giant inksticks are put on exhibition
All is contained here: name, birthday
I, an inkbrush reincarnated for a thousand years-keep writing
the land exhibit characters written by the land
the sky gazes down upon
them
quickly it lays out a vast sheet of rice paper. Keep on hard training
Li Li (1961-), Born in Shanghai, now resides in Sweden. He is the author of several books of poetry including Eyes in the Water, Weight of time, Escape, and Retune.
Photo by Jack Zallium. Creative Commons.