Waldorf Values Find a Home in Cohousing Communities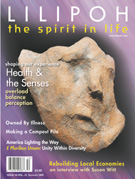 By Neshama Abraham Paiss
Issue: Summer 2005, HEALTH & THE SENSES - Issue #40
Today when I picked up my six-year old daughter from her Waldorf school, I felt delight at the lively conversations among the parents, teachers and kids of all ages. It reminded me of how people socialize in our cohousing courtyard. Turning to Halonah I said, "You have two wonderful communities – one at school and one in cohousing. Both have so much to teach you!"
I have lived in a cohousing neighborhood in Boulder, Colorado, since December, 1997, where I home-birthed my two girls, Halonah, age six and Zipporah, five. My husband Zev Paiss and I discovered Waldorf education three years ago and Waldorf has been our path ever since.
Professionally, Zev and I help cohousing groups get started around the country. These environmentally and socially sustainable neighborhoods are planned and managed by the residents who work and play together before they move in. Each household owns its own home and a share of the land and common facilities. The intent is to create a close-knit neighborhood built upon communication, sharing and support for one another.
We soon discovered there was considerable overlap between cohousing values and Waldorf education. I would like to walk you through our 25-person, one-acre urban neighborhood while exploring two of those values: creating a strong and vibrant social fabric of community, and working with ritual and seasonal celebrations to enhance individual life passages.
Let's take an in-breath and start in our home. Ours is a "shoes off at the front door," four-level town home. The first room off the entrance is the children's playroom that allows the kids in the community to easily run in and out of our home and has made our playroom a central social hub for the kids.
Our playroom has the feel of a Waldorf pre-school. The walls are adorned with pink silks and numerous children's paintings. The furniture is all wood and there's a kitchen, drawing table, nature area, and a puppet stage/store. We recently built a climbing wall with ropes and loft as an indoor means for physical activity. Our main level also holds a spacious living room where community children can often be found dancing and playing instruments.
Out-breath. Right outside our front door is the shared community space. As is typical in cohousing, cars are parked on the perimeter so people pass by each others' homes via the central courtyard instead of disappearing through their garages. You can feel there is something special here. The plants in the courtyard are thriving, the kids are happily playing (in between the usual bickering over a toy or bike), parents and elders are rapt in conversation and laughter, and there is a sense of harmony in the neighborhood.
Like the playground at our Waldorf school, the courtyard is also where we hold seasonal celebrations. For example, our community has honored the transition between summer and fall for years. The children know how to make arrangements of leaves and harvest fruits such as grapes, squash, corn and pumpkins. They have planted the first seeds in the spring and paraded in costume to the beat of their parents' drums and flutes during fall harvest. At other times our community celebrates personal transitions, such as the first day of school where each child received a stone, a shell, and a feather to symbolize learning, growth and fun, respectively.
As our neighbor, Angelique, explains, "Celebrations help people to feel grounded and connected to the place they live and the people they live with. People and place are what cohousing is all about. Community celebrations make it easier to remember our natural and seasonal rhythms."
In-breath. It's dinner time in the Common House, our shared community building that serves as dinning hall, meeting room, a space for yoga and weekly children's music classes and a multi-purpose space for social activities. Residents take turns cooking healthy home-cooked meals which include organic produce, handmade salad dressings, free-range chickens and hormone-free poultry and meat.
As in our Waldorf school, before meals the little ones help lay out the silverware and napkins. Even at age three, our next-door neighbor Julia is a study in concentration as she carefully carries a pitcher of water from the kitchen. One of our values is that everyone works, everyone helps, and everyone is important in the community. The children learn this value through daily community life.
Rhythm and song are not limited to community celebrations. Mealtime always includes a lively song to thank the cooks for their effort.
"Give thanks for all the food,Give thanks for all the drink,Give thanks to all the helping handsAbove the stove and sink."
"Appreciation is an important value at Nomad," says my husband Zev. "We like to acknowledge our abundance from the earth and our relationships with one another. Our song before meals reminds both children and the adults that everyone contributes to the community and everyone is necessary. "
Out-breath. Our visit ends at the community garden. Here we grow beets, tomatoes, carrots, kale, broccoli, string beans and squash, interspersed with bright orange marigolds and magnificent sunflowers. Vegetables are harvested for community meals and there is a team of people who take care of the garden. The children are also regular tenders of the garden and help pick vegetables for dinners. Children learn values from being in the garden, including: patience, hard work, seeing the fruits of your labor, and connecting to the Earth.
We make our own compost in our cohousing neighborhood. All households in the community empty their food scraps into the compost bins and we have a four-person team who take turns layering the compost every two weeks. Turning the compost is one of the tasks of our community work days. Similar to the work days at our Waldorf school, parents and adults commit to a set number of work days per growing season—in our case six. We view work days as opportunities for community building—it's a chance to reconnect with your neighbors while you get the job done.
In our cohousing community, our children are growing up seeing their parents' dedication to open communication, appreciation for the earth and the abundance of life, tolerance for differences, reduced consumption, use of natural materials, and contribution by everyone to the well-being of the whole community. These values are being taken to heart and will one day become part of their own life model as they enter society and contribute to the planet. I'm proud of what we are passing on to the next generation.
Neshama Abraham Paiss and her husband Zev Paiss are partners in Abraham Paiss & Associates (www.AbrahamPaiss.com) where they help new cohousing groups get started. They are raising their two daughters at the Nomad Cohousing Community in Boulder, Colorado, where the girls attend the Shining Mountain Waldorf School.