Winter 2015, Issue # 78: Editor's Note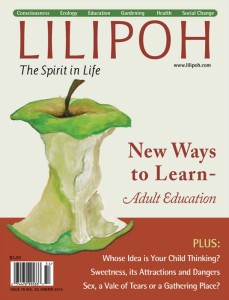 Dear Readers,
For many of us in the West, our lives are relatively prosperous and filled with choices. Having evolved to the point where we no longer spend our days chopping wood and carrying water, we can continue to cultivate ourselves, study, and learn new things. Supporting engagement in life-long learning is, in fact, the purpose of this publication. As readers of LILIPOH, we are collectively educating ourselves both externally and internally.
In this issue, we share stories of how adults young and old are learning in original and non-conventional ways. Many of us provide our children with creative opportunities or Waldorf education; but once they head to college, or become adults, education becomes much more conventional. As adults, we may lose interest in learning, think that we do not have time, or that if learning isn't going to help us earn more money, what's the point?
We can learn skills that allow us to do, and we can acquire skills on how to be. Both take practice and repetition, although the being, I would argue, is even more important. But since it is not as easy to quantify, it is less valued during this period in our culture when money and success have become the holy grail. Taking time out for our spiritual practice (in which we learn and cultivate virtues such as reverence, gratitude, equanimity, steadfastness of thought, contemplation, positivity, and generosity) leverages all of the practical skills we have, whether they be employed in the home, as parents, in relationships, or in the workplace.
Just as Buddha said there are 86,000 ways to find enlightenment, there are possibly just as many ways we can learn. Who said that adults with special needs can't learn German? Or that we can't learn while walking; or that urban college graduates can't learn to farm? Throughout the pages of this issue, you'll read about those who are learning to see the world with new eyes, developing new habits of thought, and expanding the definition of who they are.
My wish for LILIPOH in the coming year is that it can make a contribution to helping us lead lives with increased meaning, purpose, and service. I look forward to continuing to learn together with you!
Speaking of education, many of our advertisers offer learning opportunities for young and old. I thank them for their commitment to enriching lives; and I encourage you, dear readers, to avail yourselves of their services!
Have a wonderful New Year!
Christy Korrow,
Editor, LILIPOH