Summer 2012, Issue #68: Editor's Note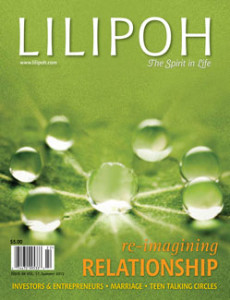 In this issue, we cast a wide net as we take a look at how we can relate to and interact with other individuals in new and improved ways (pp. 9–31). At the heart of any spiritual path lies the cultivation of new ways of thinking, feeling and acting. If we continue to think, feel and act out of the same emotional state, the same mindset, and the same set of behavior patterns, it is guaranteed that we will find ourselves failing to break out of habits that do not serve us, and might also be harming us. The same applies to social issues. Could this mean at times we need to radically reinvent how we relate to money, our spouse, our teens, and our educational systems? I say yes. It might mean taking risks, leaving the safety of the known world, or taking a chance on an idea which hasn't been scientifically proven. As people are now making changes in their lives and communities, more models for social change are in place and the work for the rest of us gets easier—the path is being paved. Could it become normal for truth, cooperation, and environmental consideration to be a baseline for how we move forward socially? I believe so. These new ways of thinking can be supported by our modern environment. As much as some of us despise the 24/7 diet of media and information, it also means we have constant access to the tools, ideas and examples that can keep us inspired and focused on what is possible.
Social change is possible on many levels and acts that deepen our life experience can stem from the everyday. Laura Grace Weldon points this out in her article about the simple act of creating a family memory jar (p. 53). However change can also come from movements that have the potential to impact social consciousness such as the beginning Waldorf high school in mainland China (p. 56).
Perhaps our greatest responsibility and potential for bringing about change in the world lies with the children. Our regular contributor, Nancy Blanning, an early Waldorf childhood educator, and a board member of the Waldorf Early Childhood Association of North America (WECAN), emphasizes in her column the significance of behavior modeled to children by adults (p. 65). Nancy authored the forward for the first book to be published by LILIPOH Publishing! Slow Parenting by the Danish Waldorf kindergarten teacher, Helle Heckmann. Visit LILIPOH.com to order your copy!
In this issue we also discuss medicine, welcoming back Philip Incao, MD, a longtime LILIPOH friend and author (p. 32), and Adam Blanning, MD continuing his exploration of anthroposophic medicine (p. 37). Both doctors have the skill of taking the complex ideas of anthroposophic medicine, and communicating them in a way that makes sense and places it within the realm of ordinary understanding!
-Christy Korrow, Editor