Spring 2013, Issue #71: Editor's Note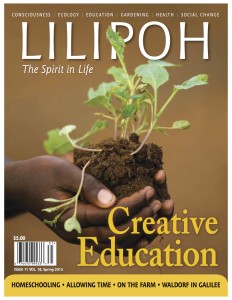 Dear Readers,
Whenever we put together an issue on education, it comes together quite effortlessly. In fact, there are so many authors in our community who have important messages to share about the education of children that LILIPOH could easily become a magazine with a purely educational focus. As you will read, many of these creative educational models use the arts, farming, nature, and community as the basis from which to educate the children—simple suggestions that support intellectual, emotional, and social development.
My husband and I creatively educated our own children. We raised our two daughters on a farm, and homeschooled them all the way through high school. Now, at 19 and 21 years old, they love learning, they have an interest in the world around them and they have environmental consciousness, they aim for a quality of life and not only material gain, they volunteer, they buy organic food, cook from scratch, and shop at farmer's markets, and, they are entrepreneurial. Our family is not special. Our example illustrates how balanced human beings can result from so-called "creative education." Many of the elements of creative education discussed in this issue of LILIPOH can be incorporated into family life, whether the child is in public, private, or home school. Families and friends can make art together on a weekend, visit a local farm, volunteer at a soup kitchen, or make a special dinner with an ethic focus as a way to learn about other cultures.
Here at LILIPOH, unexpected gems often show up in the articles we publish. One of these moments was during this issue's interview with farm-based educator, Christa Hein. Her response to our last question, "What things would you change if you had a magic wand?" reads like a manifesto for the future that we should all cut out and hang on our refrigerators! Please don't miss it! (p. 19)
Half way through our 17th year of publication, we are still coming up with new ways to creatively grow the magazine. Most recently, a Spanish edition is on the horizon. We are working with a group in Mexico who will begin translations at the end of 2013. Keep your eyes peeled over the next few issues for new ways to become involved in and support LILIPOH. We now offer to donate back to a Waldorf school a portion of subscriptions sold as part a school fundraiser. (p. 76) Soon there will be a new subscription option for those who want to support our efforts, such as our Chinese and Spanish editions. Remember, your subscription means we can continue to have a publication that offers a space to flesh out new ideas, share them, and change the way we think!
-Christy Korrow, Editor
Take a few minutes to send us an email about how articles in this issue instructed and inspired you in new ways. Have you taken new action as a result of something you read in LILIPOH? Or, has one of our authors challenged your beliefs or contradicted what you know to be true? Let us know! editor@lilipoh.com