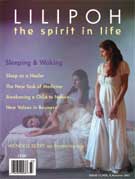 By Michaela Gloeckler, M.D.
Issue: Fall 2003, Sleeping and Waking - Issue #33
The underlying principle of salutogenesis which is based on heterostasis* and the activation of the body's own resistance, brings about an all encompassing renewal in all branches of modern medicine.
Healthy nutrition with foods grown in a vital and healthy manner is one very important element that belongs here. The process of digesting and transforming these foodstuffs into bodily substance demands more effort from the organism than when pre-cooked canned vegetables or synthetic vitamins are taken in. Everything that is pre-digested, substituted or offered as "ready-made" asks too little of the organism's own activity. Activation rather than relief and protection is the basic tenet of healthy nutrition.
Medications offered by anthroposophical medicine, have as their goal the strengthening of the patient's own bodily resistance. The work of the body should not be taken away, rather the medication should help the organism to develop and mobilize its forces of resistance, the forces for self-healing.
An Education aimed at the child, helps to provide age-appropriate boundaries and allows the child to experience itself and develop.
Here it is important for the child to be provided with examples in its environment by means of which it can learn to take up challenges and cope with obstacles.
Children should have the opportunity to measure their own forces through their disputes with trusted adults; to be able to experience and stabilize their own capabilities.
A good education is one that is characterized by honesty, love and respect for the other. In this regard, honesty provides the basis, because important as love and autonomy are, they lack foundation if they are not accompanied by honesty, which is so to speak, love on the level of knowledge. Through clear thinking, which is what health really means on a spiritual level, the child learns to place itself within the context of the world and to find its place there.
When a child breaks a toy,he comes trustingly to an adult and asks, "Can you fix it for me?" Fix in this sense means to make it whole, to heal it. Health is integration, the harmonizing of all functions. It also means holy, the holy in us.
Anthroposophy as a science of the spirit and soul of the human being, can embrace this new salutogenic concept of health down to the very last detail. It lays a great responsibility - especially upon anthroposophical educators and doctors, to contribute through their own research so that this concept can be widely spread and realized.
It makes it necessary to bring the reality of the spirit into the natural-scientific medical debate and not to rule it out as "transcendant" - relegating it to the theologians and philosophers alone.
The health of modern man depends entirely upon how he thinks of himself as a human being and upon which path of development he travels.
* A Greek-derived formulation for balance in the midst of change.
Editor's note - In the final installment of this series, we will look at applying salutogenetic principles to find a self-development that is healthy and truly human, and that includes a striving for higher development and knowledge. Healthy and human implies that its results are fruitful for daily life and can be tested and put into action there.
Michaela Gloeckler, M.D. has been Head of the Medical Section at the Goetheanum, the School of Spiritual Science in Dornach, Switzerland since 1988. She co-authored A Guide to Child Health, Floris Books. This article is adapted from a lecture given in September 2001. Special thanks to Anne Sproll for translation from the German.